World Class Taekwondo
Adult Martial Art Program
Our adult martial arts classes focus on self-defense, fitness, and a wide variety of important skills and techniques. Whether you've never stepped foot on a mat or you've been training since you were in diapers, this class is exactly what you're looking for.
World Class Taekwondo Martial Art Program
Adult Taekwondo
Our adult martial arts programs are designed to teach our students a high level of self-defense with many other benefits. Our students soon discover that World Class Taekwondo is more than just punches and kicks!
Fitness
You will gain flexibility through our stretching techniques which will decrease your chances of injury in sports and everyday life. You will build strength and tone you body with our dynamic, isometric, and repetitive exercises. You will gain confidence and self-esteem by improving your physical fitness, body composition, skill level and self-defense skills.
You will enjoy the workout as well as the friendships that come along with exercising and training with people that have similar goals. People that train together and support one another end up building friendships that last a lifetime.
Martial arts is like an exercise program with a bonus! You learn to defend yourself while you get in shape. Our adult students really appreciate the difference between martial arts training and standard exercise programs.
Fun
The reason our program is so successful is because we make the classes fun and exciting. We learned a long time ago that when our students are having fun they learn much faster.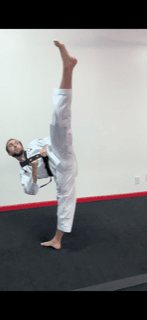 Mental Health
Martial arts classes are well known for their stress relieving benefits. The emphasis on mind-body training goes far beyond the benefits of standard health club type exercise programs.
Confidence
The confidence building part of our program is what students appreciate the most. Nothing can take the place of the security in knowing that you can defend yourself, if you have to.
Safety
At our school, everything we teach is reality based. Our instructors work very hard to insure that our studnets learn to defend themselves with practical self-defense techniques.
Try a Free Class Today!